Kilkee
Kilkee is Loop Head's main town and was built around a horseshoe bay with a kilometre of golden, blue-flag beach. Because of the Duggerna Reef (locally known as the Pollock Holes) stretching across its mouth, the bay is naturally sheltered from the Atlantic, and Kilkee beach is the safest in Co. Clare.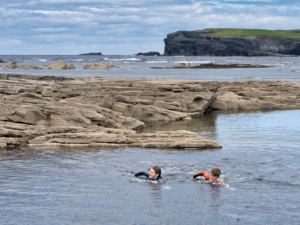 On one side of Kilkee Bay you will find the Pollock Holes, incredibly beautiful natural swimming pools. When the tide is right you will see many small processions of swimmers making their way down there for a dip. And for those not keen on sea-bathing, there's an immense variety of marine life to be observed both in the large pools and in the countless smaller ones. On the other side of the bay is George's Head, a vantage point for looking out over Bishops Island and the Loop Head Peninsula.
There are many award wining restaurants in Kilkee, serving locally caught seafood with the seasonal fresh ingredients. Or for those who fancy an walk along the prom with an ice-cream or a bag of chips – there are many places to choose from. The pubs in Kilkee have a welcoming atmosphere, serving an extensive list of gins, whiskeys, and cocktails for you to sample.
Whether you're an ardent adventurer or a laid-back observer, a family or a singleton, a history buff, a nature addict, a geology fan, a spa devotee or a birdwatcher, there are many activities on Loop Head to suit all. Between beaches and rock pools, there are many places for swimming and snorkelling, and if you have the nerve, take your place in the queue for the diving boards in Kilkee!
Kilkee has many wonderful places to stay. From family friendly hotels, boutique guest houses or staying with a local family in one of the many B&B's, you won't be disappointed with all the seaside town of Kilkee has to offer.