Sea angling with an experienced skipper on a custom-built fishing boat is the safest and most rewarding way to enjoy this sport.
Carrigaholt Sea Angling, led by skipper Luke Aston, offers great fishing trips on its charter boat The Clare Dragoon. We also offer accommodation in our guesthouse – Glencarrig, specialising in fish and stay packages.
Alternatively, take some time out to go on a "Fishing Adventure" on the Lady Gwen 11 with skipper Seán Maguire. Seán caters for the novice and the experienced angler, groups and individuals, and family's are welcome. Rods and reels are provided but you can bring your own lucky rod if you wish.
When weather permits, the waters at the edge of the peninsula supply some of the best fishing in Europe. Anglers have caught more than 20 different species in one day's fishing there, and some crews have landed up to 500 kilos of whitefish in a single trip. These include cod, pollock, saithe, ling, haddock, whiting, hake, spurdog, ray, and of course mackerel, which in turn can be used as bait for blue shark and big skate, among others.
Dolphin Watching & Wildlife Eco-Adventure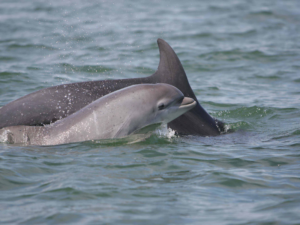 Ireland's greatest river opens out to the Atlantic Ocean at Carrigaholt – home to Europe's largest group of bottlenose dolphins. With approximately 200 individuals here at the Mouth of the Shannon, the dolphin encounter rate with Dolphinwatch is one of the best in the world.
The passenger ship, Draíocht ("Magic"), skippered by Geoff Magee, departs from Carrigaholt Castle Pier to take you on an extraordinary adventure. Geoff's fascinating commentary keeps you informed throughout the trip. The competent and friendly crew are on board to ensure your comfort, safety and enjoyment.
Watching and learning about the dolphins in their natural habitat is central to the experience, yet every trip is different in this dynamic environment. You might meet a grey seal emerging from a cave, spot a herd of wild goats on a hillside, learn about the many species of nesting seabirds, and delight in the stunning cliffs and caves of the Loop Head Peninsula and the coast of North Kerry.
A family business since 1992, Dolphinwatch is the only marine tourism business to be awarded a gold certification from Ecotourism Ireland. Dolphinwatch achieved the Excellence Award from Trip Advisor, and is one of the BBC Wildlife Magazine's Top Ten Attractions in Ireland.
Carrigaholt is a Discovery Point on the Wild Atlantic Way.