Kilbaha
Kilbaha, the very last village on the Loop Head peninsula, is tucked into a small, sheltered bay at the western edge of the Shannon Estuary. Looking south across the river, the village enjoys arresting views of Kerry Head and the Brandon Mountains.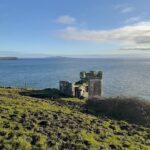 Kilbaha's small, picturesque pier was built in the early 19th century to cater for the large numbers of people making their living from fishing, seaweed gathering and piloting the large ships going up the Shannon to Limerick docks. It was also used by cargo vessels bringing supplies to Loop Head Lighthouse, four miles west of the village. Around the headland from the pier, and visible as you approach the village from the east, is a castellated turret, built by the Keane family for the Victorian ladies to enjoy the view. The ruins of the Keane home stand nearby on the top of the hill.
Kilbaha is the home of the Little Ark, which you can visit at the Star of the Sea Church in the village.